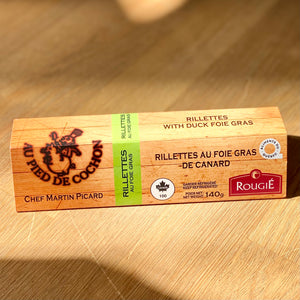 Duck Foie Gras Parfait with Maple Syrup

It blends the best parts of duck meat with 20% Foie Gras. This product is ideal for slicing on toasts or on a charcuterie board. Rougie has created a blissful balance of salty and sweet that's unmistakably Canadian and irrefutably delicious. Made in collaboration with Martin Picard from Famed Montreal restaurant Au Pied de Cochon. 
Expect approximately 20 servings. 
Paris Toast crackers are the perfect accompaniment cracker, as they are the same size as the terrine. 
Ingredients: Duck foie gras, maple syrup, water, duck fat, whole liquid eggs, salt, modified milk ingredients, gelatin, white pepper, sodium erythorbate, sodium nitrite.

Size: 140gr
Packaging: Mini terrine
Origin: Canada