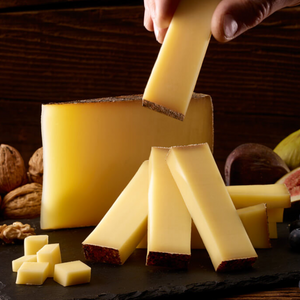 Le Maréchal was a tough guy with a soft heart, and his namesake cheese reflects his robust character. In the big scheme of things, this is a relative newcomer to the cheese world. Produced by the Rapin family in Granges-près-Marnand, Vaud, Switzerland since 1992, it was named after their grandfather Emil Rapin, a 19th century village blacksmith (le maréchal-ferrant).
According to their website, "The cheese maker and the producers of the milk for the cheese are bound by a collective agreement. They set up the Le Maréchal Interprofession Association and drew up specifications intended to guarantee the quality of the milk in a production process which respects the cows as well as nature in general. Thus, each farm must produce a minimum of 80% of its dry fodder. The cows' diet is supplemented with Omega-3-rich flaxseed flour (up to 250 grams per kilo), especially in winter. These essential fatty acids, good for healthy blood circulation, therefore naturally find their way into Le Maréchal."
It's wonderful to see that the 12 dairy farms that produce the milk for La Maréchal have banded together to form a cooperative that is committed to being part of making one cheese and one cheese only.  They're a great example of doing one thing only, but doing it well.
Le Maréchal is similar in texture to Gruyere; however the wheels are substantially smaller.  Because of this smaller size, the cheeses are aged for 130 days compared to twice as long for a good wheel of gruyere.  During the ripening process the rind is brushed with aromatic herbs. The resulting crust is dark brown and flecked with herbs. The paste is a light golden color and is smooth with few, if any holes.  It has a nutty, herbal aroma that is reminiscent of rich milk. The flavours are again milky and herbaceous, with a slight sweetness.
Milk Type: Cow / Unpasteurized

Origin: Switzerland
Whole cut piece
The final weight of your product may be +/- 25 grams
Requires minimum 3 hours notice