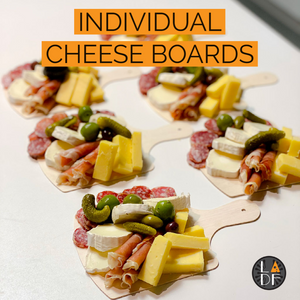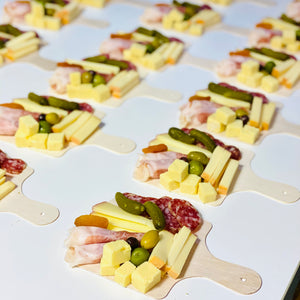 We're now offering individual cheese platters to help you maintain social distancing within your circle. Prepared using our new compostable balsa wood cheese boards, each 5"x5" board is the perfect serving size for one person. We'll cut up the cheese into more manageable pieces to make it easier for you to eat. 
Minimum order of 4 platters
Selection is our choice
Actual platter may vary from image shown
Bread and crackers not included
Prices do not include applicable taxes
About our balsa wood cheese boards
The factory supports over 500 women in rural India and Indonesia. They pay fair wages, offer a safe work environment and healthcare.
The Balsa wood line is made from the leftover tree stumps from certified renewable tree farms. After the tree is felled the team removes the stumps and the other leftovers to be used as the raw material for balsa product collection.
The factories recycle the water used during the manufacturing process and the leftover leaf bits are used as food for livestock such as cattle or turned into an organic compost.
Biodegradable, compostable, durable and versatile.