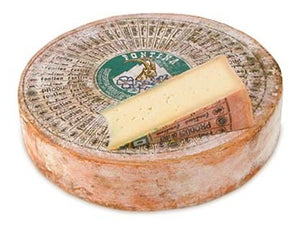 Produced in the Aosta Valley, a region in the western Alps near the Italian-Swiss border, traditional Fontina is the product of Alpine pastures and milk from Valdostana cows. With a production that dates back to the Middle Ages, the recipe is rumored to have been passed on to the early inhabitants of the Val d'Aosta by a near-mythical man called Sarvadzo, who taught locals how to make this unpasteurized, full-fat cheese, and cave-age it for at least three months.
Today, the milk for production comes from Valdostana cows that graze on Alpine pastures dotted with wildflowers and native herbs and munch on locally-grown hay. Wheels of the cheese are brushed and salted on alternating days for the first three months to aid in rind development.
Fontina has an aromatic, slightly pungent aroma and a thin rind that ranges from reddish yellow to dark brown in color. Its texture is very smooth, dense, and supple, with occasional holes, and the paste is pale yellow.
Flavors are subtle but complex. It has savory notes of fruit, grass, earth, and cellar that are balanced by a gentle sweetness. 
Milk Type: Cow/ Unpasteurized

Origin: Aosta Valley, Italy
Whole cut piece
The final weight of your product may be +/- 25 grams