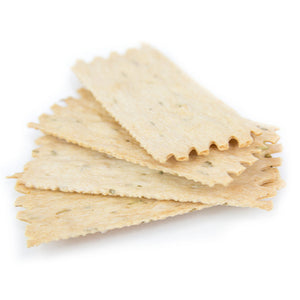 A favorite of chefs and other food lovers, our pure and simple Original Croccantini® create a perfect complement to flavorful cheeses, tapenades and charcuterie.
Choose from four flavours
Original
With just a touch of coarse sea salt, these crisp, light crackers enhance any accompaniment.
Rosemary
With their fragrant aroma, our popular Mini Rosemary Croccantini® arouse memories of kitchen herb gardens and rustic Italian baking. With the heady flavor of rosemary and a hint of sea salt they are tasty enough to eat alone, or pair with rich cheeses, hummus or dry salami
Cracked Pepper
A staple of every spice rack, the bold taste of cracked black peppercorns adds excitement to any dish. With a pinch of coarse sea salt, our Cracked Pepper Croccantini® spice up any spread, pâté or creamy cheese, or stand on their own as a savory snack.

Multigrain
With complex flavour and a dusting of sea salt, our wholesome Mini Multigrain Croccantini® are layered with flax seeds and seven whole grains, including the ancient grains of quinoa and amaranth. These crackers are beautifully balanced on their own or when topped with roasted chicken, robust cheeses and chutneys.