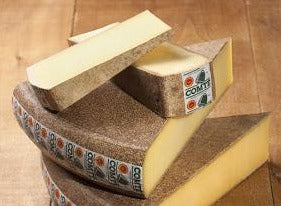 Produced in the alpine pastures of the Jura mountains in Eastern France.  One of the first French cheeses to receive AOC status, being awarded this designation in 1958. Produced for over eight centuries, it is France's most popular cheese. 
The flavour is savory, nutty and sweet, with superb aromas. This version is designated "Montagne" which means the milk used to make the cheese is collected exclusively from the Montbeliarde breed of cattle that graze in rich alpine pastures above 1150 meters.
Why is that a big deal? What grows at the alpine levels greatly effects the flavour of cows milk. And this shows up in the end result, the cheese. 
Aged 20-24 months. 
Milk Type: Cow / Unpasteurized

Origin: Franche-Comte, France
Whole cut piece
The final weight of your product may be +/- 25 grams