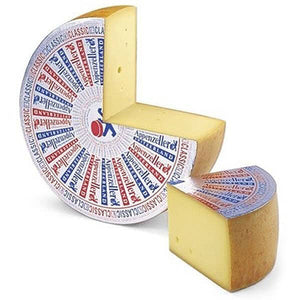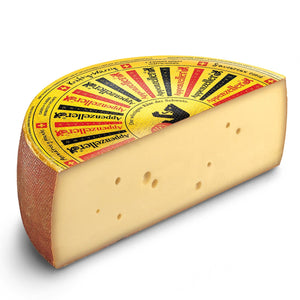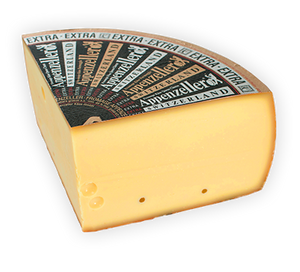 A hard cheese produced in the Appenzeller region of north-east Switzerland. 
A herbal brine, sometimes incorporating wine or cider, is applied to the wheels of cheese while they cure, which flavors and preserves the cheese while promoting the formation of a rind.
Cheese from the region of Appenzell has a documented history of at least 700 years, being first mentioned in a document from 1282. However, the manufacturing process is not mentioned and must have been rather different from today. Today, about 75 dairies produce Appenzeller, each with a different recipe for their brine wash. Most of the recipes are trade secrets.
The cheese is straw-colored, with tiny holes and a golden rind. It has a strong smell and a nutty or fruity flavor, which can range from mild to tangy, depending on how long it is aged. Three types are sold:
"Classic" Silver Label - Aged three to four months, mildly spicy.
"Surchoix" / Gold Label - Aged four to six months, strongly spicy.
"Extra" Black Label - Aged six months or longer, extra spicy.
Milk Type: Cow / Unpasteurized

Origin: Switzerland
Whole cut piece
The final weight of your product may be +/- 25 grams