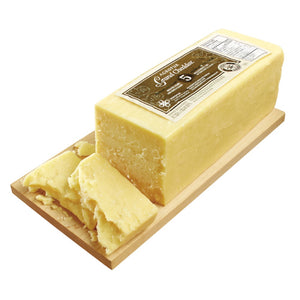 World's best aged cheddar... Superior quality 5 year-old cheddar with a firm, satiny texture that blends well with the fruity, slightly sharp aroma.
2016 - 1st Prize / British Empire Cheese Show
Agropur Grand Cheddar features among the most acclaimed cheddars in the world. It has won more than 25 awards since it was introduced in 2001, including World's Best Aged Cheddar!
Pairs well with big red wines. 
Milk Type: Cow / Thermized / Lactose Free
Origin: Quebec, Canada
The final weight of your product may be +/- 25 grams
Requires minimum 3 hours notice