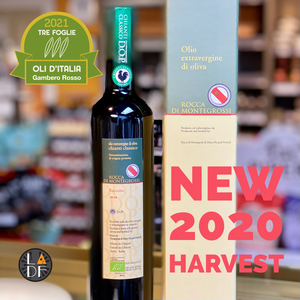 NEW HARVEST: 2020
Rocca di Montegrossi EVOO / Certified Organic
Olive Variety: 90% Correggiolo / 10% Moraiolo
Harvest Method: Hand
Crushed between 24-48 hours from harvest
Pressing: Cold
Annual Production: Less than 4000 bottles
Fresh tasting, with medium intensity on the nose. Flavours are vegetal with hints of artichoke, and a slight sweet hint of apple. Dry and not 'Greasy', it's fascinating and velvety. Well balanced with good fluidity, medium bitter, finish slightly piquant.
Matching: Seafood, salads, grilled vegetables, pappardelle with ragout and more.
Awarded '3 Leaves' - the highest ranking from Gambero Rosso
This producer primarily makes wine, including a recently scored 95 pt Chianti. 
Size: 500ml
Origin: Italy