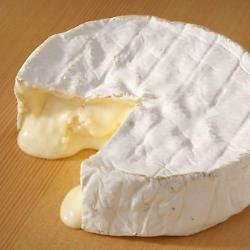 Coulommiers, made from cows milk, is considered a member of the Brie family made in Meaux, aka the "land of Brie," about 40 miles east of Paris. It is smaller and thicker than the more typical Brie-style cheeses, and some say that Coulommiers is the predecessor of Brie. 
Coulommiers' hand molded artisanal cheese is described as "the color of fresh churned butter with a supple paste and well-developed rind with a hint of hazelnut."
They normally weigh around 400g. 
Milk Type: Cow / Pasteurized
Origin: France
Individual cheese