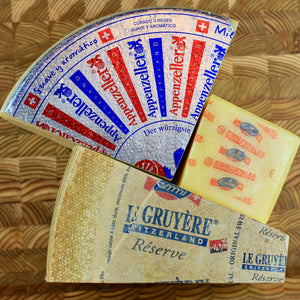 This classic blend with Appenzeller is a mix of Swiss Gruyere, Emmenthal and Appenzeller. Just a little more punch of flavour then our regular Classic Blend. 
We recommend serving 150- 200 grams per person if it is for the main meal. When we say main meal, we're thinking you might have a salad, Fondue, and possibly some dessert. If it is to be part of a larger meal, then 50-100 grams a person should do ok.
Note: Weights are based on cheeses that have been trimmed of their rind. You'll need to buy a little extra when shopping in-store to allow for the rind.
The final weight of your product may be +/- 25 grams
Requires minimum 3 hours notice