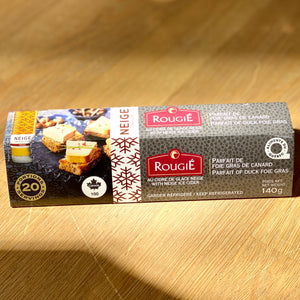 Duck Foie Gras Parfait with Iced Cider Gelee

Foie gras and truffles are a combination as naturally decadent as can be. Smooth and creamy duck foie gras is whipped up with duck fat and Armagnac wine, then studded with aromatic black truffles. Serve it chilled, paired with toast or a simple crusty bread, with some garnish of cornichons, a sprinkle of sea salt, a touch of Dijon mustard, or a sweet jam or chutney. 
Expect approximately 20 servings. 
Paris Toast crackers are the perfect accompaniment cracker, as they are the same size as the terrine. 
Ingredients: Duck foie gras, water, duck fat. ice cider, apple juice (water, concentrated apple juice, vitamin C), whole liquid eggs, gelatin, brown sugar, salt, apple cider vinegar, modified milk ingredients, white pepper, sodium erythorbate, sodium nitrite.

Size: 140gr
Packaging: Mini terrine
Origin: Canada