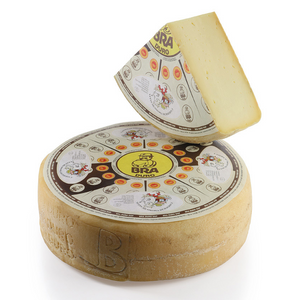 Produced in the lowland dairies surrounding the town of Bra, in Northern Italy, Bra Duro is made with milk sourced from the local breed of Razza Piedmontese cow. The word "Duro" means rough, or rugged in Italian, and refers to the rustic appearance of the rind.
According to AOC (name protected) rules, milk for production must be drawn from two milking's on the same day and can occasionally include the addition of either goat's or sheep's milk.
Flavors are mild and lactic with notes of fruit and hazelnuts, and a pleasantly long, grassy finish.
Bra Duro pairs best with one of the region's wines such as Gamay, Barbera, and Nebbiolo.
Milk Type: Cow / Unpasteurized

Origin: Italy
Whole cut piece
The final weight of your product may be +/- 25 grams
Requires minimum 3 hours notice