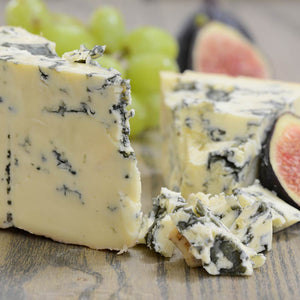 Named after the province in which it originated, Bleu d'Auvergne has been AOC protected since 1975.
The flavour of this cheese is mostly salty with noticeable flavours of blue, humidity, mushrooms, and farm. It is powerful and engaging.
The Bleu d'Auvergne PDO product specifications specify all production regulations from the geographic area of production to refining, including the conditions for feeding livestock. These production regulations guarantee a link with the geographical area and preserve traditional production methods. 
The first product specifications for Bleu d'Auvergne PDO were set in 1975. They specified the geographical area of production and a number of processing conditions. Many changes have been introduced since that time.
A PDO is a living product that is continually evolving so product specifications must also evolve. This is why SIRBA (the Regional Inter-professional Bleu d'Auvergne Syndicate) recently reviewed the product specifications for Bleu d'Auvergne and introduced significant changes in order to reduce the size of the protected area and strengthen the PDO's link to the geographical area. This means it is possible to more clearly define the savoir-faire of each producer while undeniably improving the quality of the product
Find out more about this cheese. 
Milk Type: Cow / Unpasteurized

Origin: Auvergne, France
Whole cut piece
The final weight of your product may be +/- 25 grams
Requires minimum 3 hours notice