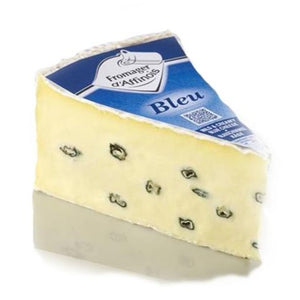 Fromagerie Guilloteau was created in 1983 in Pélussin, Loire. It was the first creamery to use the now famous ultrafiltration system which results in a silky-smooth texture on the palate. That same year, Jean-Claude Guilloteau's first cheese, the Pavé d'Affinois, was created.
The Bleu d'Affinois is just as refined as the Pavé d'Affinois but has the added flavour of a blue. Made with milk enriched with cream, it is part of the soft-white family of cheeses but distinguishes itself by the slight addition of blue mold that combines the strong character of blue with the softness of cream and gives this cheese its unique appeal.
A fantastic introductory bleu, and we think it's awesome on steak sandwiches. 
Milk Type: Cow / Pasteurized

Origin: Loire, France
Whole cut piece
The final weight of your product may be +/- 25 grams
Requires minimum 3 hours notice