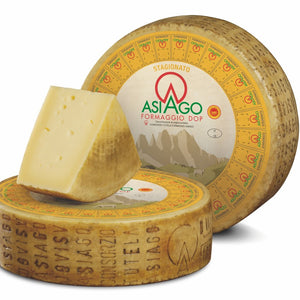 In the Asiago Plateau, from which Asiago cheese takes its name, a tasty cheese has been produced ever since the year 1000.
Initially sheep's milk was used, but from the 1500s, with the gradual increase of cattle farming on the plateau, cow's milk became the raw material used.
The cheese making technique developed, and, during the early seventeenth century, production expanded into the neighbouring areas of the Asiago Plateau: the foothills, the surrounding plains and the nearby Alpine huts of Trentino.
Aged Asiago is a flavourful cheese with a strong personality. It should be chewed slowly until its aromatic notes explode in the mouth. It can be "Mezzano" (medium seasoned), "Vecchio" (mature) or "Stravecchio" (extra mature) depending on the seasoning.
Aged at least 12 months. 

Milk Type: Cow / Pasteurized

Origin: Italy
Whole cut piece
The final weight of your product may be +/- 25 grams
Requires minimum 3 hours notice