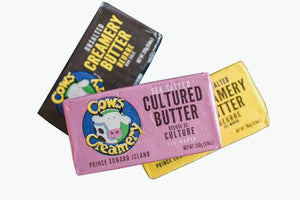 Cow's Sea Salted Cultured Butter
Premium butter containing 84% butter fat. Cultured Butter is made from cream that is cultured with active bacteria and has a distinctive, slightly tangy taste. It can be used interchangeably with regular butter in cooking. Cultured Butter is common in Europe and is becoming increasingly available in North America.
Notes From the Farm:
We use only Prince Edward Island milk in the production of our dairy products. Dairy cows on PEI eat grass, silage, hay, grain, and water. The grain ration varies from farm to farm. Mainly, it would involve barley and corn, but could include oats, wheat, and soybean. Mineral and salt may be added to the grain mix or available as blocks for the cows to lick. Therefore, we cannot say our butter is strictly grass fed; just partially.
Milk Type: Cow / Pasteurized
Origin: PEI, Canada
Size: 250g