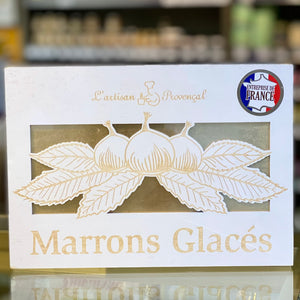 Marrons Glacés (Candied Chestnuts) are delectable confections popular in France and Northern Italy, where they are consumed as candies or added to an infinite variety of recipes. Enjoyed frequently during the holidays, 
Marrons Glacés are without question a labor of love. The chestnuts are first sorted to eliminate those that are not perfectly round or smooth. They are then boiled, peeled by hand, and sorted once again. Finally, the chestnuts are cooked for two days in a rich vanilla syrup until the flavor seeps into the very heart of the chestnut. 
Each wooden box contains 8 individually wrapped pieces. 
Producer: l'Artisan Provencal
Origin: France
Size: 8 piece / 160g