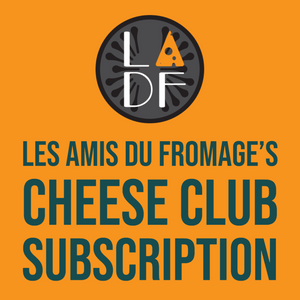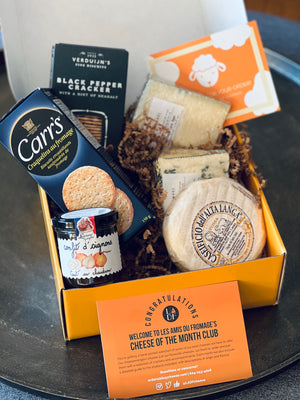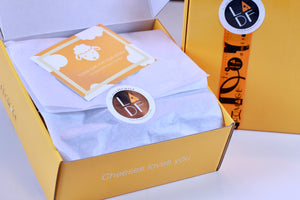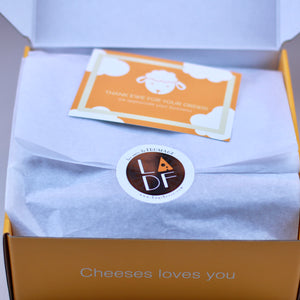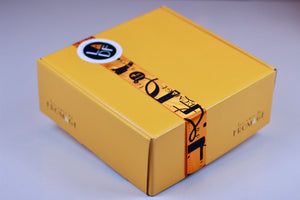 ** Cheese Club is currently full. We are not taking new subscriptions at this time **
Every month Allison carefully selects THREE high quality, perfectly ripe cheeses for you to enjoy. Each cheese is either hand cut or individually packaged and presented with additional information.  Whether it's for yourself, or a gift to a food loving friend, our subscription box is sure to be a welcome treat. 

Your subscription includes:
3 classic cheeses, with a minimum total weight of approximately 500 gr
Selection of accompaniments. This could include a selection of crackers, olives, or preserves to best accompany your selection.
Presented in our beautiful custom-made gift box. 
FAQ
Are you really not shipping any cheese club order in December?
Yes, unfortunately. We'll start up again in February. When you purchase your subscription, the system will give an option to choose a date. It's a minor glitch, but we can't accommodate the date it allows you to choose.  We'll contact you to go over the subscription details. 
When does it begin?
Our new cheese of the month club will begin it's first month in February 2022. Why so late? We need some time to hunt and gather a great selection for you.  We will not be doing a pick-up in December as it's simply too hectic in the store because of the holiday season. 
Is there a cut off day for joining?
Yes there is. New subscription cut off day is the last Sunday of the month. Any new subscriptions after that day will get their next delivery the month after the next scheduled delivery. 

Example. Cut off day is Sunday January 29. You join on February 1st. The next delivery is on February 3. Your subscription will start on Mar 3. 
How do I get my subscription box?

Cheese subscription boxes will be ready for pick up on the first Thursday of each month. This item is perishable, but should last a couple of weeks. However, to get the maximum enjoyment, we recommend that you come and pick up your subscription box ASAP, preferably by Saturday at the latest. 
They must be picked up in person. Please see schedule below. 
2022

 

Pick Up Dates
Nov - 3
Dec - NO PICK-UP IN DECEMBER
2023 Pick Up Dates
Feb - 2
Mar - 2
Apr - 6
May - 4
Jun - 1
Jul - 6
Aug - 3
Sep - 7
Oct - 5
Nov - 2
Dec - NO PICK-UP IN DECEMBER
Can you deliver my subscription box?
We do not offer delivery or shipping at this time. 
Can I pause my subscription?
Yes you can. We understand you may be away for an extended period of time. We just need time to plan for that. Just let us know that you'd like to pause your subscription by notifying us by the 20th of the month prior to your pick up. 
Your subscription will automatically resume the following month. 
We cannot accommodate last minute cancellations.
Can I make substitutions or special requests?
We're sorry, but we will not take special requests or offer substitutions.  Due to the sheer volume of boxes, we need them to be all the same to keep things simple for planning, preparation and pick up. 
We will accommodate gluten free crackers upon request. Please let us know when you purchase your subscription. 
Does my subscription automatically renew?
No it does not. We will run your subscription for the amount of months you sign up for. At the end of that time, you will have to re-subscribe.