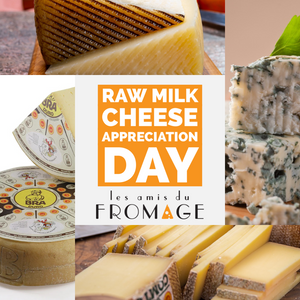 INTERNATIONAL RAW MILK CHEESE APPRECIATION DAY IS OCTOBER 21, 2023
Raw milk cheeses are made with milk that has not been pasteurized, or heat-treated. Pasteurization removes many of the fungi spores, yeasts, and microorganisms that make a cheese unique. There are delicious pasteurized cheeses, but raw milk cheeses are worth celebrating for their complexity of flavor, diversity, and history. 
Enjoy a selection of raw-milk cheeses hand-picked by us.
Avonlea clothbound Cheddar - Cow's Creamery - PEI

Comte Montagne - AOP - France
Roquefort - AOP - France
Bra Duro - DOP - France
Aged Manchego Selection 1969 - Spain
Total combined weight approximately 500 gr
These bags are only available for pick up October 18-21.